I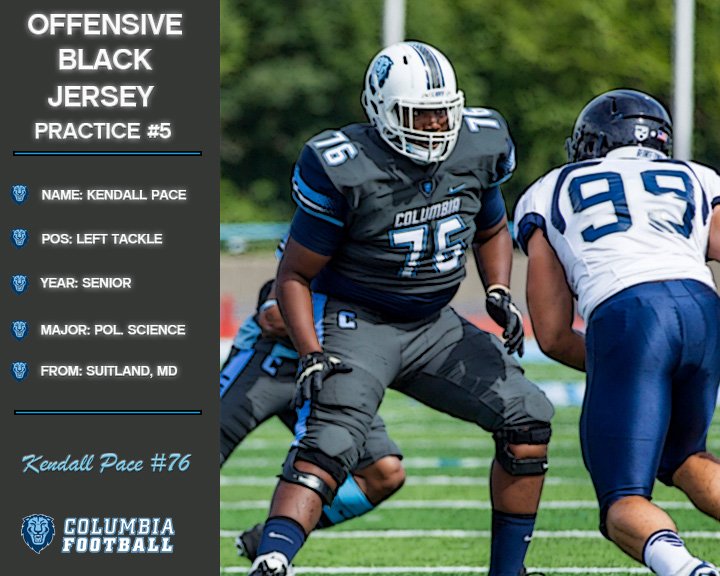 Progress reports during spring practice used to either non-existent or overly general.
But now this spring, we're getting more than just the usual bits of video, etc.
The coaching staff is basicallynaming offensive and defensive players of the week by awarding them "Black Jerseys."
Apparently, there are two new winners for this past weekend's set of practices. But the previous winners were DB
Colin Early
on defense and LT
Kendall Pace
on offense.
If they keep it up, both of those players could really help the Lions 2016 chances. Columbia's secondary looked strong coming into this season even without Early emerging as another talent. But if he can complement the very good
Jared Katz
,
Cameron Roane
and
Brock Kenyon,
Columbia's secondary could be an elite unit in the league.
Pace's improvement is a key factor in the Lions chances to go from having a decent O-line to a very good one. With a new starting RB and a new offense being put in place, the usual crucial need for a good offensive line is even more urgent now.
New Star?
I really liked what I saw from then-freshman WR
MarcusBriscoe
in 2014. I liked him so much I thought he might be our leading receiver in 2015 and I even told some of the guys who cover other Ivy teams about him. But Briscoe missed the entire 2015 season due to an injury. The good news is that Briscoe looks good in spring practice so far and he was even featured burning a defender badly on one of the football programs quick video snippets on the Twitter feed.