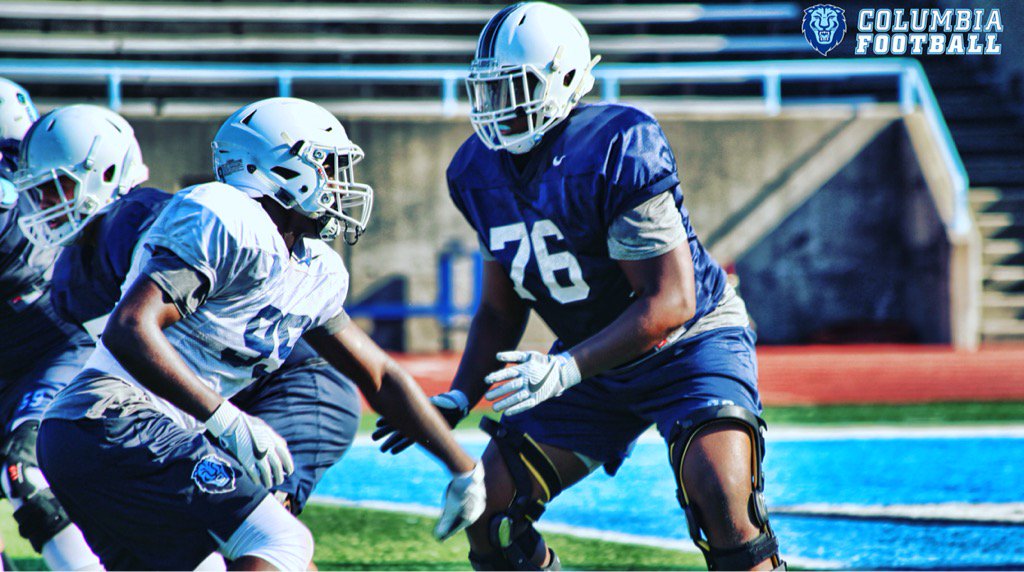 Kendall Pace is now a 300+-pounder
The
official football roster
has updated the player weights.
One of the things that really strikes me is the fact that there were very few major moves up or down the scale, which I take as a sign the program has now been well managed for more than a year and not many radical body changes are needed.
On a roster with 116 listed players, only 39 had weight moves of ten or more pounds. Only seven had weight moves of 20 or more pounds. And only two players had moves of 30 or more pounds.
The biggest mover was OL
Brock Anglin
with a gain of 50 pounds to 290 lbs.
But I want to focus on the changes I think are the most significant and why:
-Columbia's offensive line is now talented, experienced, and big. The four returning starters,
Kendall Pace, Bewley Wales, Charlie Flores,
and
Nathan Gibbs
average 299 lbs. One leading contender for another starting spot or at least a key role is 325-pound junior
Michael McGrath.
Sophomore
Tyler Schonewolf
gained 15 pounds to get to 275, and he looks to be the lightest contender for heavy O-line playing time. And don't sleep on 300-pound freshman, yes freshman,
Joseph Scowden.
-The graduation of Columbia's potent DE's from last year has produced some players who have clearly answered the call to get bigger and stronger. Sophomore
Mike Hinton
added 21 pounds to get to the 245-pound area the coaches clearly seem to think is the zone needed to play DE for the Lions. Junior
Connor Heeb
is a larger DE at 260. LB
Ian Tyler
has been moved to DE too, which explains the 19-pound gain to 250 lbs. And LB
Cal Falkenhayn's
17-pound gain to 240 seems suspect, so I suspect he is also being moved to DE too and will try to contribute despite not quite being big enough yet. You don't see too many 240-pound LB's in the Ivies.
-The DT's, led by returning juniors
Dominic Perkovic
and
Lord Hyeamang
are now at 270 lbs. and 280 lbs., respectively. Hyeamang is intriguing because he's in the kind of physical shape to be a fast 280-pounder, and that would be a unique weapon in the Ivies. Perkovic is already a fast and strong pass rusher, but we'll see if his added 11 pounds makes any positive changes. Sophomore
Cole McDonough
lost 22 pounds to get to 285 lbs. and that could signal he's primed to contribute a key role for the DT rotation.
-TE
Adam Armesto's
22-pound gain to put him at 245 lbs. for his 6-6 frame perhaps gives him a chance to get some playing time in the coming years. A 6-6 TE would be a great weapon in this league if he can take hits, catch balls, and do some blocking.